Profile

Unbridled Brunette
Darkly Dreaming
This journal should be viewed with discretion.
Free Account
Created on 2010-01-27 02:21:27 (#474562), last updated 2011-08-08 (319 weeks ago)
9,525 comments received, 2 comments posted
640 Journal Entries, 95 Tags, 0 Memories, 8 Icons

About

Mini Bio
I'm 28 years old, and I live in Georgia. My goal in life is to be a published author. To cut my teeth in the writing world and to garner some feedback on my abilities, I also write
Buffy the Vampire Slayer
fanfiction. My epic length story
Forward to Time Past
has won multiple awards and it is something of which I am extremely proud. I'm currently working on a romance I started for the help_haiti auction, entitled
The Girl with Flaxen Hair
. Not a lot of notice has been taken to it yet, so if you care to read it and if you enjoy it, I would greatly appreciate any and all feedback you have to offer. :)
My favorite currently running series is
Dexter
, so expect occasional comments about current storylines and a general squeeing over Michael C. Hall, whom I adore.
I'm also a fan of
The Daily Show
and the
The Colbert Report
, the latter of which I discovered by watching the former.
Stephen Colbert
has been my god ever since the
White House Press Correspondents' Dinner
, when he gave our current administration a much needed verbal thrashing.
Aside from writing, my favorite hobby is horseback riding. I own two horses, both Appaloosas, and I plan to thoroughly bore my lj friends with pictures of them. :)
Most of my personal entries are flocked for privacy purposes, but all fanfiction and fandom related entries will remain open. I friend easily, so please don't be shy in introducing yourself if we have something in common.
Note: This blog contains some material not suitable for persons under the age of 18. I will not be held responsible for minors reading these entries.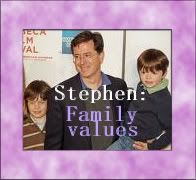 My lj header was created by me. My profile username icon and the "Family Values" graphic were created by the wonderful
pfeifferpack
. My mood theme is by gimcrack_icons. The "Colbert Nation" text was created by quaser_dilema. "Truthiness Never Hurts" is courtesy of faded-tea-cozy. "Stephen Smiling" is the work of stephs_shades. "Down in the Basement" and "Muchachos" is thanks to lay_of_luthien. "Stephen Dancing" is by clairequilty. And last, but not least, "Colbert Hates Bears" was made by faded-tea-cozy. Thanks to all of these talented artists for sharing their work. :-)

Connect
19th century
,
angelus
,
appaloosas
,
bloody awful poet
,
books
,
buffy
,
buffy the vampire slayer
,
charles dickens
,
chuck noblet
,
classic literature
,
colbert nation
,
colin firth
,
dexter
,
dogs
,
fanfic
,
fanfiction
,
films
,
geoffrey jellineck
,
german shepherds
,
horseback riding
,
house m.d.
,
hugh laurie
, indecision 2008,
j.d. salinger
,
james marsters
,
jane austen
,
jerri blank
,
jon stewart
,
labrador retrievers
,
movies
,
paul dinello
,
poetry
,
politics
,
reading
,
regency period
,
satire
,
spike
,
spuffy
,
stephen colbert
,
steve carell
,
strangers with candy
,
the colbert report
,
the daily show
,
the royal tenenbaums
,
the victorian era
,
the word
,
this week in god
,
thomas hardy
,
truthiness
,
victorian era
,
vladimir nabokov
,
vladmir nabokov
,
wikiality
,
writing

People
[View Entries]

Communities
[View entries]

Feeds
[View Entries]

Subscriptions (0)

Linking
To link to this user, copy this code:
On Dreamwidth:
Elsewhere: